Past Activities
NESA Chicago's Lake Michigan Sail
On August 1, 2013, volunteers from the Chicago Area Council's Sea Scouts program hosted members of NESA Chicago on an evening sail on Lake Michigan. It was a beautiful evening for a sail!
---
After-Hours Networking at Rock Bottom
Members of NESA Chicago great time mingling with their fellow Eagles at Rock Bottom Brewery on July 9, 2013! We heard a lot of great Scouting memories and great ideas for future NESA events!
---
2013 Eagle Scout Recognition Dinner
N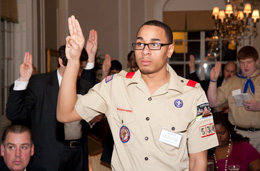 ESA Chicago hosted its annual Eagle Scout Recognition Dinner on January 10, 2013, honoring the Eagle Scouts of the Chicago Area Council from the past year. As in previous years, it was held at the Union League Club of Chicago. Our keynote speaker was Brad Lichota, Eagle Scout and Past National Chief of the Order of the Arrow. Brad shared his experiences as National Chief and how important it is to make what you do after Scouting count!
---
Career Fair
The Chicago Area Council's Exploring Program and National Eagle Scout Association (NESA) chapter hosted a career fair on Saturday, October 13, 2012 for Scouts and CPS students to explore and learn about several different career fields and skilled trades. The purpose of the fair was to enlighten students about different career possibilities.
Career fields represented that day included:

Accounting
Aviation/Transportation
Carpentry
Civil Services/City of Chicago
Computers/IT
Electrician
Engineering
Finance
Fine Arts/Music
Law
Law Enforcement
Medicine
Military
Veterinary Medicine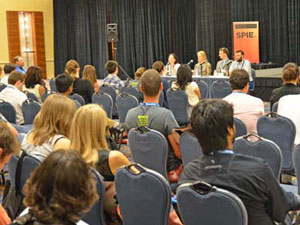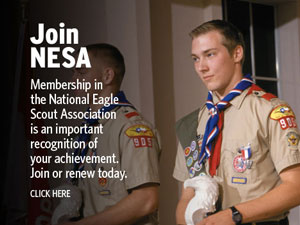 Students learned the following about each career field: educational requirements/training (where you get it, how long it takes, cost and expenses, grade needs, talents/skills required), benefits/drawbacks of the career field, range of earning upon completion of training, work hours per week, career path, typical day, and quality of life.
---
Networking on the Northwest Side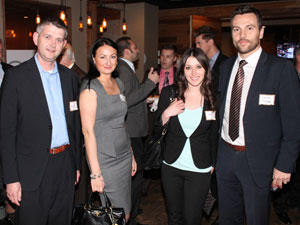 On the evening of September 22, 2012, NESA Chicago members gathered at the Emerald Isle on the Northwest Side for some food, fellowship, and fun. It was a beautiful evening enjoyed on a great outdoor deck. The group spent some time getting to know each other before there was a short discussion about NESA Chicago, Scouting in the Chicago Area Council, and lots of inquires as to how each of them could get more involved!
---
To the Arctic 3D at the Navy Pier IMAX
On Saturday, April 21, 2012 NESA Chicago members and their families joined Scouts from the Chicago Area Council for a special viewing of To the Arctic 3D at the Navy Pier IMAX. Our members enjoyed learning about the animals and environment of the Arctic!!
---
Adventures in Scouting at Jaks Tap
Members of NESA Chicago gathered on Wednesday, February 8, 2012 at Jaks Tap in Greektown, for an evening of stories of adventure from their days of climbing the trail to Eagle and a little networking. We all earned our Eagle rank in different years from different troops but the moments we experienced along the way reveal similar characteristics required of all of us – being physically strong, mentally awake, and morally straight.
---
2012 Law Merit Badge Day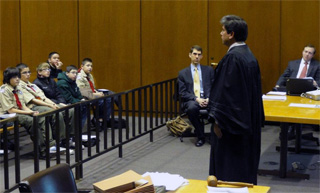 Thirty lucky Boy Scouts from 12 troops of the Chicago Area Council participated in NESA Chicago's 2nd annual Law merit badge clinic at the Daley Center on January 21, 2012. The Scouts got to see several courtrooms as well as the sheriff's lockup in the basement. With the exception of a handful of Scouts, none had ever visited a real courtroom. The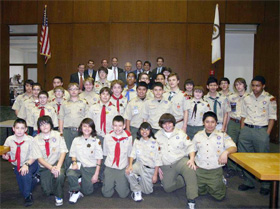 faculty was comprised of judges and attorneys from various backgrounds around the city, each of which are Eagle Scouts. Attorney Lawrence Chesler (retired Sr. Vice-President at NAVTEQ Corp.) chaired the event with the assistance of "Tad" Howard L. Huntington (NESA Chicago Chairman and partner at Williams Montgomery & John), Benjamin M. Whipple (associate at Williams Montgomery & John), Jonathan R. Sick (shareholder at McAndrews Held & Malloy), Andy Foreman (associate at Butler Rubin Saltarelli & Boyd LLP), along with three brothers: Hon. Joseph D. Panarese (Assoc. Judge 1st Municipal District Circuit Court of Cook County), Hon. Donald D. Panarese Jr. (Assoc. Judge 1st Municipal District Circuit Court of Cook County), and Nicholas D. Panarese II (Law Offices of Nicholas D. Panarese). The Scouts concluded the day by participating in one of three mock trial exercises examining witnesses like lawyers in a real courtroom.